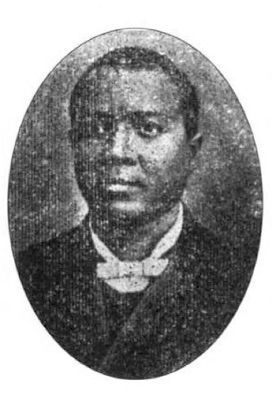 NORTH EAST — It would be forgiven if the headline for this story caused the reader to squint and call to mind the affable smile and genius of the more famous Walt Disney, of Mickey Mouse fame, and wonder just how in the world he was connected to Cecil County.
Well, this is not about Walt Disney, or Mickey or Minnie for that matter. This story is about a lesser-known but still famous Disney who truly ought to be remembered in the county of his nativity. This Disney was born some say on July 13, 1835, while others avow on June 24, 1830, in the then village of North East. The son of Henry and Rebecca Disney, Richard Randolph Disney was a free-born African-American, whose parents had previously been enslaved.
Disney was greatly blessed to be born into freedom in the years before the Civil War and to receive a higher education at a seminary operated by the Rev. Samuel Osgood at Springfield, Mass. While working in Baltimore, Disney would later recall, he "felt a call to preach," and went north to obtain an education in the field while supporting himself as a barber.
In 1857, Disney would be licensed to preach by the African Methodist Episcopal Church, or A.M.E. Church, which was formed in 1816. He would later be ordained as a deacon and elder. By the mid-1850s, the AMEC had seven conferences in the United States, and preachers had begun to work in Upper Canada in 1834, with a conference formed there in 1840.
The Rev. Richard Randolph Disney would come to Upper Canada in 1857 to minister to those who found refuge from slavery there prior to the Civil War. There he was enlisted by Bishop Willis Nazrey of the newly formed British Methodist Episcopal Church, which came about once the Fugitive Slave Act was passed in the United States in 1850
Disney served several pastorates in Canada and became well-known and regarded as the denomination's book steward and editor of its publication, Missionary Messenger. When Bishop Nazrey died in 1875, the Rev. Disney had become so well regarded that he was chosen as Nazrey's successor thus making him the second bishop of the British Methodist Episcopal Church, or BMEC. Bishop Disney's area included Ontario, Nova Scotia, Bermuda, the West Indies and British Guyana.
Disney became mightily involved in mission work in the Caribbean, and in 1876 spent six months visiting missions there. By 1879, he was raising funds for an educational institution for the church, and visited Britain with a youth choir patterned after the famous Jubilee Singers of Fisk University, calling themselves Jubilee Singers as well.
In 1880, the BMEC reunited with the AMEC, and Disney was accepted as an AMEC bishop assigned to the 10th Episcopal District, essentially embracing all of his former territory and some AMEC churches that hadn't previously joined the BMEC. By 1888, he was transferred to the Eighth District, in Arkansas and Mississippi, living in Greenville, Miss., where he was stricken by malaria and moved to Baltimore seeking medical treatment. Disney died in Baltimore on April 20, 1891.
He would be eulogized in 1891 as "courageous, thrifty and persevering, of genial spirit and suave manners." He was laid to rest in Chatham in Canada, beside the body of the First Bishop, Willis Nazrey.
Bishop Disney was also memorialized in his own lifetime with a Methodist Episcopal Chapel, which was known as Disney Chapel in Yarmouth, Ontario, Canada. Built by Robert P. Kelley it was consecrated and opened for public worship Nov. 4, 1877, during a dedicatory service conducted by the Right Rev. Bishop Disney and Rev. Walter Grayson, pastor of the Disney Chapel. The chapel would close in late 1930, but would be reopened and closed again in fits and starts for a number of years. It finally became a Pentecostal chapel and serves to this day as Sharon Gospel Assembly.