CHESTERTOWN — Oysters and ice cream might seem to be strange partners, but they were a big part of life here during much of the 1800s.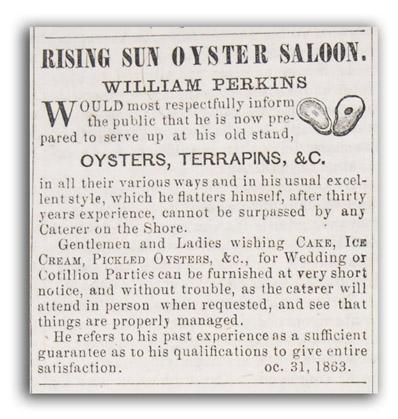 It was all due to one man, who built up a small empire around food and real estate. He was famous enough to have been mentioned, from time to time, in New York and Cleveland newspapers.
The man was William Perkins, an African American referred to in records of the time as a "colored freeman" who was among Maryland's wealthiest black businessmen in the mid-1880s. In 1884, his holdings were estimated at $12,000, a big sum at the time.
His father was a waterman, Samuel Perkins. An 1828 newspaper ad touts Samuel's "Masonic Hall Oyster Establishment – Best York River Oysters."
William Perkins was born about 1820. By 1841, he ran his own ad for "OYSTERS!" served in a newly renovated "cellar under the Odd-Fellows' Hall."
Periodically in the 1840s and 50s, ads for "Oysters, Barbering, etc." appeared under the name Samuel Perkins, where his son seems to have learned his trade. By 1856 father and son both had a reputation as restaurateurs.
Perkins was married, sometime after 1850, to Frances Ann "Fannie" Anderson. He was 49 in 1870's census (her age varies from census to census, but she was a bit older). They had a 14-year-old son William.
By 1857, William Perkins opened an eatery under his own name and called it the Rising Sun, at Maple (then called Fish Street) and Cross streets. It was still open for business as late as 1891, but the ownership by then isn't clear.
He clearly understood marketing. While the Kent News didn't carry an ad of his in 1868, he got press anyway. On June 6, the paper reported "A SURPRISE – Printers, as well as preachers, are sometimes the subject of a surprise!
"This was the case a few days ago, when we received from the establishment of the well-known caterer, William Perkins, a basket well laden with ice-cream, strawberries and cake.
"On trial, we found the ice-cream to be the real article itself, the strawberries fresh and sweet, and the cake, of different varieties, most excellent.
"Our readers may imagine that we had a nice time of it; and of they should feel a revival of the latent appetite for these good things, just in season, it may be speedily gratified by walking around to 'Bill's'."
Over the years, he got an unusual amount of press in the local papers, owned by white men who rarely said much about local African American affairs. Much of that was because he wasn't afraid to step out, in the late 1860's, as a political figure.
By 1884 the newspaper referred to him as "the great leader of the colored Republicans in Kent," but noted "Bill has had a severe spell of sickness lately." Editorial style in those days isn't always direct. This could have meant he was ailing, or it could have meant that his businesses and investments weren't doing well.
The national recession of 1882-85 caught him, and he had trouble repaying mortgages, loans and bills from his Baltimore ice supplier.
No wills were recorded in Kent records for Perkins and wife Frances. Apparently, after business reverses in the mid-1880s, he sank into poverty and left Chestertown for Baltimore. Frances can't be traced.
On May 11, 1895, the Kent News copied a Baltimore Sun obituary:
"William Perkins, colored, aged seventy-five years, died Saturday at the Home for aged colored People, on Lee street, near Sharp." (This is probably the Aged Men and Women's Home for Colored People at 214-216 West Lee St, opened in 1870.)
"He was born in Kent co., where he resided the greater part of his life. He kept a restaurant in Chestertown many years and was well known to the people of the Eastern Shore. He served as delegate to State and county republican conventions, and during President [Benjamin] Harrison's administration was appointed to a position in the custom-house [in Baltimore]."
Harrison was president from 1889-1893. The paper offered that Perkins favored James G. Blaine, a Republican U.S. senator and secretary of state, who was defeated for the nomination several times and lost the presidential race in 1884.
"For years he had a very wide reputation as an oyster cook. Indeed many people to-day declare that Bill Perkins could beat the world cooking oysters! He succeeded by industry and application to business in acquiring considerable property, but lost it all 'in politics,' and died very poor."
And yet his final resting place remains unknown.
Between 1841 and 1895, Perkins worked hard for himself and for the local black community. It seems he touched every major African American social issue in his time.
As early as 1852, he was concerned with rights for African Americans. With his neighbor James A. Jones (a butcher, grocer, and tavern owner, called a "mulatto") he went as a delegate to the 1852 Baltimore Convention. There they spoke in favor of an African homeland for freed slaves. They were appointed to its platform committee.
After emancipation in Maryland in 1864, Perkins became especially active in Radical Reconstruction politics in the late 1860s, and remained a stalwart Republican.
The elections of 1870 and 1872 pitted Perkins against Plummer and Usilton of the Kent News. But 25 years later the local obituary called him "one of the noted colored men of the land.
"Perkins was probably the most popular leader of his race in Maryland – certainly on this shore. … He was not an educated man – not having the opportunities of his race in the present time to this end – but he had by self application and study gained a sufficient 'book learning' to enable him to conduct a successful business and take a leading part in all the church and charity organizations of his race in Chestertown."
It said the Janes' Church congregation is "indebted for the substantial and really handsome church property now owned by that organization."
That may refer to a $1,500 loan he took out from the Preachers' Aid Society in 1877, secured by several lots. It is likely the loan went to build Zion Church, which was near today's Wilmer Park. Eventually, when Perkins went bankrupt, the Preachers' Aid Society took possession of his "Perkins' Hall."
Perkins Hall was a meeting room built in 1862. It was located on the "Foot of Cross Street," now Philospher's Terrace, near his house on the corner, near his 1858 ice house. The hall was used for entertainment and holiday gatherings. In the 1880s it was the starting point for the Decoration Day Parade, organized by Charles Sumner Post No. 25, G.A. R., for both white and African Americans.