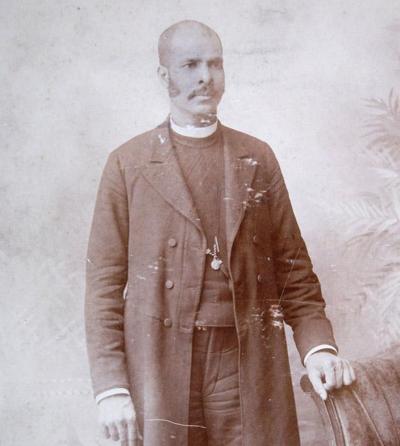 Nearly a decade ago, Kevin Hemstock, a newspaperman out of Kent County published a substantial article in the Kent County News about African Methodist Episcopal Church minister Rev. Enoch E. Hughes, a man otherwise lost to memory and nowhere to be found represented on local historic markers or within rudimentary heritage brochures.
In 2015 Hemstock inserted a photo and caption of Rev. Hughes in a book without further mention in the text.
During a recent research quest we came across Injustice on the Eastern Shore: Race and the Hill Murder Trial and upon reading the caption our street historian instincts begin to harmonize.
Enoch E. Hughes of Cambridge, Maryland and Howard University
Free-born in the Bucktown area of Dorchester County in 1860, the record indicates as a late teen Hughes and members of his family were living in Dorchester County during the September 1877 and subsequent November 1878 visit of United States Marshal Frederick Douglass to Cambridge.
Was Hughes in the audience that greeted Douglass, escorted him through town and heard him speak behind Bethel AME in September 1877 and/or was Hughes seated in the present-day Dorchester County courthouse in November 1878 where Douglass spoke to benefit a local cause?
During the 1882 – 1883 school year at Howard University in Washington City Hughes, according to existing records, was the only student in any department from the Eastern Shore's Dorchester County.
For that academic year Howard University enrolled two other students from Maryland's Eastern Shore with Saint Michaels in Talbot County and Chesapeake [City] in Cecil County properly accounted for.
I am still tracking how and/or how well Douglass knew Hughes. Based on quantifiable and qualified scholarship, Douglass was an active presence on the campus of Howard University, serving as an active member of Howard's Board of Trustees from 1871 until his passing in 1895.
According to existing records, accounts and oral tradition Dr. Douglass often knew the parents and sometimes even the grandparents of Howard students. Some of the students Douglass had known since their infancy.
This history has yet to be told due the proclivity of mainstream scholars to embrace and endorse diabolical scandal-mongering speculations and conjectures that have minimized and dishonored the people's history of Dr. Frederick (Bailey) Douglass.
It is the informed interpretation of Old Anacostia Douglassonians and Shore street historians that hereby, as it is formally known Dr. Douglass looked out for young people the entirety of his life and heretofore it is acknowledged Dr. Douglass was closer connected to the Eastern Shore following the Civil War than any previous historian other than Master Historian Dickson Preston has advanced, it is hereby our declaration it is highly probable Douglass would have known and/or met a young Enoch E. Hughes and his family during visits to Cambridge in the late 1870s and in subsequent years Dr. Douglass would have continued his relationship with a young Hughes in the early 1880s while Hughes was one of only three students from the Eastern Shore enrolled at Howard University.
It is our position their shared identity as Eastern Shoremen would would have been a discussion point for them, if nothing else.
The research continues …
As shared with the Delmarva more than a year ago in response to the blasphemous scholastic dishonesty of Washington College, the infinite and eternal associations and connections of Dr. Frederick (Bailey) Douglass and higher education, with genesis in ear hustling parts of lessons intended for future Princeton College graduate Daniel Lloyd to decades of committed service as a member of the Board of Trustees of Howard University to an intentional visit to Al-Azhar University in Old Cairo to ongoing support of institutional education efforts in his indigenous Eastern Shore on behalf of the Freedmen's Bureau, the Delaware Conference of the Methodist Episcopal Church and local primary schools for children descended from those of whom he had been enslaved, are sacredly beyond reach of preachers and biographers.
Eurocentric Historians Suppress Dr. Douglass and Higher Education
Founded in 1886 as the Princess Anne Academy, today the University of Maryland – Eastern Shore in Somerset County's Princess Anne serves along with Morgan State University, founded in 1867 as Centenary Biblical Institute, in Baltimore City as testament to the leadership of the Delaware Conference of the Methodist Episcopal Church, which founded both institutions with deliberate intent and mission of providing formal educational instruction for, to and by peoples of African descent within and outside Maryland and the Delmarva.
Untold by a power elite of diabolical Eurocentric historians who demonstrate continued inattention to scholarship as personified by Washington College's Adam Goodheart and the likes of Yale Professor David Blight, Harvard's John Stauffer and the duplicitous Leigh Fought of LeMoyne College, all falsely believed to be "Douglass Scholars," is the history of Dr. Frederick (Bailey) Douglass and Higher Education.
Despite any awards, prizes and speaker's fees the aforementioned "Douglass Scholars," are dishonorable and shameful contemporary representations of the sacred tradition and foundation established by Douglassonian Scholars of African descent of yesteryear.
The scholarship of Howard and Harvard-educated Professor James Monroe Gregory, native Washingtonian and Howard University Professor Rayford Logan, Master Historian Dr. Professor Benjamin Quarles of Morgan State University, Yale University's John Blassingame, Honorable Donna M. Wells of Howard University's Moorland-Spingarn Research Center and Master Historian Honorable William Alston-El out the corners of Southeast Washington by way of Old Anacostia Douglassonian Dr. John Kinard established a scholastic standard and interpretation those invested personally and publicly in furthering their own interests of Eurocentricism are incapable of advancing and uplifting.
Without benefit of a formal day of education Dr. Douglass rose out the Tuckahoe in Jacksonian America to counsel Senators, Governors, Chief Justices, Speakers of the House, Presidents, foreign heads of state and the most learned men of his times.
Therefore what be possible excuse for lack of knowledge, scholarship and education on this matter from those who command teaching positions at the most prestigious universities in this country?
Why is there no Center for the Studies of Frederick Douglass at an institution of higher learning in our area and the country?
Nothing less than deliberate and diabolical Eurocentricism is responsible for reinforcing and supporting mediocre, speculative and incomplete scholarship produced by the alleged leading scholars at the alleged elite universities across the country. Truth be told, some of the leading Douglassonian scholars are Europeans, including University of Edinburgh Professor Celeste Marie-Bernier. Prof. Bernier's book If I Survive is never mentioned by shameful David Blight whose book, which cites Frederick Douglass in Washington, D.C.: The Lion of Anacostia eight (8) times, draws from the same Douglass Family scrapbook collection of Linda and Walter O. Evans in which Bernier has been working with for nearly a decade.
The scholarship and its discussion, conversation and debate is held morning, noon, afternoon and late night on the back of the bus where elite scholars are unable to defend their inattention to scholarship.
Let us work together to return the history to the communities where its legacy maintains and abides for us all. The community has been exploited and left in a state of unknowing due diabolical Eurocrenticism that by remaining silent we all passively condone.
Connections of Dr. Frederick (Bailey) Douglass & Princess Anne Academy
Generations before the founding of Centenary Biblical Institute and the Princess Anne Academy an adolescent Freddy Bailey attended Methodist church services in alleys of pre-industrialized Fell's Point Baltimore City.
By combination of formal church attendance and revelation to the street corner ministry and preaching of Father Charles Lawson, Douglass was affiliated and initiated as a disciple of the faith and orientation of the bondmen and freedmen during the Second Great Awakening which begat the first independent religious denomination of peoples of African descent in America.
Following the American Civil War Dr. Douglass was active in support of education efforts on the Eastern Shore across Sunday schools, primary schools and institutions of higher learning supported by the Baltimore Conference of the African Methodist Episcopal Church and the Delaware Conference of the Methodist Episcopal Church.
Lack of knowledge of nationality and Eurocentric Historians have openly conspired to conceal and suppress the truth which properly honors and recognizes the self-reliance, self-preservation and self-education efforts of African peoples of the Eastern Shore, including expansive and consequential contributions of Dr. Frederick (Bailey) Douglass during Reconstruction to these efforts across the Delmarva from the Upper Shore to Lower Shore.
Diabolical Eurocentric history and mythology imposed internally and externally will not acknowledge this sacred lost history of Dr. Douglass on the Eastern Shore.
To compound the lack of knowledge of nationality and self we have found few within the local communities of the Shore who acknowledge and command an understanding of their own community's history. Therefore it is our obligation out of a great sense of hospitality, courtesy and respect to share this community history henceforth with the community to reach one teach one.
Salisbury's Solomon T. Houston, long-serving member of Princess Anne Academy & friend of Dr. Frederick (Bailey) Douglass
At the time of his passing in January 1916, according to a newspaper report, the philanthropic resident of Salisbury's Georgetown neighborhood Solomon T. Houston was "not only a leader in social, financial, and political affairs, but he was a leader in religious affairs, being a member of the John Wesley Church, and chairman of several committees."
Known and respected within and by all nationalities of Salisbury, Houston was also known for his service as a member of the Governing Board of the Princess Anne Academy and as a director of Morgan College in Baltimore City.
Upon his death another paper reported, "'Saul,' as he was generally known, was 83 years old. A brother, aged 91, survives him. His funeral yesterday was the largest ever seen in the lower peninsula for one of his race. Many prominent men attended the service as a mark of their respect for 'Saul.'"
Delmarva Master Historian Dr. Linda Duyer brought to our attention the interesting mention of "Saul" in Swepson Earle's 1916 classic Maryland's Colonial Eastern Shore:
Dr. Huston, a physician of wide reputation, lived in the mansion and practiced medicine in Salisbury until his death, about the middle of the last century. One of his old family servants, who recently died, at an advanced age, Saul Huston, was the wealthiest colored man in that section of the State. As is almost invariably the case with old family servants of the Eastern Shore — but very few of whom now survive — Saul was shrewd, dignified, with a quick brain and pleasing personality, and carried the impress of old- time manners and virtues.
February 1880 visit of Douglass to Salisbury
Returning to the Eastern Shore less than six months after a fall 1879 visit to Centreville in Queen Anne's County, in February 1880 Douglass traveled from Washington City to Baltimore, where he lodged in the home of Rev. James H. Brown, founding instructor and organizer of Centenary Biblical Institute.
He the proceeded across the Chesapeake Bay to the Church Street home of Salisbury's Solomon T. Houston, a future member of the boards of Morgan College and the Princess Anne Academy.
Maintaining a lifelong commitment to the moral and educational improvement of his people, the lecture of United States Marshal of the District of Columbia Frederick (Bailey) Douglass was advertised as benefiting the John Wesley Methodist Episcopal Church in Salisbury.
Proceeds from the lecture Dr. Douglass delivered in the extant Wicomico County Court House assisted covering the costs of an addition of a second floor to the original John Wesley Methodist Episcopal Church built in 1838.
The extant building stands today as the oldest structure on the Delmarva independently built by peoples of African descent, serving the present-day community as the Charles H. Chipman Cultural Center.
Presence and preservation of the church in which Dr. Douglass spoke to benefit is a testament to the community of all nationalities and generations in the city of Salisbury on Maryland's Lower Eastern Shore.
Were it not for the street historian as detective work of local journalist and columnisst Dr. Linda Duyer and the collaborative research spirit of a former board member of the Edward H. Nabb Research Center for Delmarva History and Culture an awareness and recognition of a visit of Dr. Douglass to the Lower Shore may have continued to evade scholars.
An important and consequential note to the February 1880 speech Douglass delivered in the extant Wicomico County Court House is its benefit to John Wesley Methodist Episcopal Church, within the Delaware Conference of the Methodist Episcopal Church, of whom the opening of the Princess Anne Academy was critical.
On a future post we will share the connections of Rev. Monroe, Godson of Dr. Frederick (Bailey) Douglass to the John Wesley M. E. Church and the circumstances of his being offered the inaugural principalship of the Princess Anne Academy.
Visit to historic Houston Cemetery in Salisbury on the Lower Eastern Shore
Last year on a collaborative history mission with Delmarva Master Historian Dr. Linda Duyer we had opportunity to pay our respects to the Honorable Solomon T. Houston, host and friend of Dr. Frederick (Bailey) Douglass.
Etched on one side of the obelisk acknowledges Solomon T. Houston (Oct. 27, 1832 – Jan 12, 1916) as the son of Levin & Easter Houston, the husband of Anna Maria (July 18, 1837 – Oct. 10, 1907). Other sides of the obelisk reflect members of the Houston family including his brother Levin Houston.
We thank Dr. Linda Duyer, a respected community historian from street corner murals to the offices of United States Senators, for her time and kindness introducing us to an incredibly important and largely overlooked figure in the history of Salisbury and the Lower Shore.
Historians with No History
History not contained in any books must be sought, pursued and investigated in cemeteries, churches, libraries and archives of the streets where Eurocentric Thought has no authority nor is welcome.
The dominance of Eurocentric thought and Eurocentric mythology has exploited and falsified the history of Dr. Frederick (Bailey) Douglass.
Untold are the close connections Dr. Douglass had either to the founders of and/or these institutions of higher learning in present-day Maryland and Washington, D.C.:
2) Centenary Biblical Institute (Morgan State University)
3) Princess Anne Academy (University of Maryland – Eastern Shore)
5) American University (founded by Bishop John Fletcher Hurst, of the Eastern Shore)
7) Miner Normal School (founded by Myrtilla Miner, today the University of the District of Columbia)
An era of exacting attention to bibliography, scholarship and informed interpretation is upon us whereas in 2019 the era of diabolical Eurocentricsm and Historians with No History is a bygone era only if we make it so.
Now that we know better we must do better. Dr. Douglass and the Shore deserve better.
JM
---
Editor's Note:
We appreciate and respect the time and correspondence of Bill Robinson, director of the Office of Public Relations for the University of Maryland Eastern Shore.
The post was generated without support nor correspondence from any other staff at UMES, let alone staff in the archives of UMES and/or the Frederick Douglass Library.