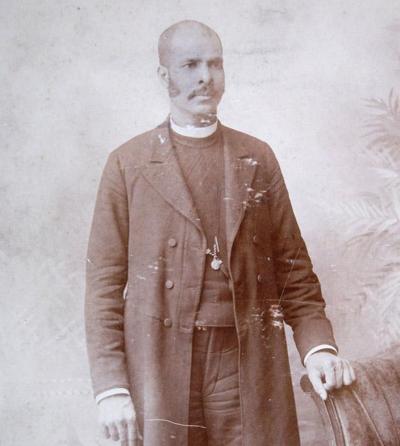 Nearly a decade ago, Kevin Hemstock, a newspaperman out of Kent County published a substantial article in the Kent County News about African Methodist Episcopal Church minister Rev. Enoch E. Hughes, a man otherwise lost to memory and nowhere to be found represented on local historic markers or within rudimentary heritage brochures.
In 2015 Hemstock inserted a photo and caption of Rev. Hughes in a book without further mention in the text.
During a recent research quest we came across Injustice on the Eastern Shore: Race and the Hill Murder Trial and upon reading the caption our street historian instincts begin to harmonize.
Enoch E. Hughes of Cambridge, Maryland and Howard University
Free-born in the Bucktown area of Dorchester County in 1860, the record indicates as a late teen Hughes and members of his family were living in Dorchester County during the September 1877 and subsequent November 1878 visit of United States Marshal Frederick Douglass to Cambridge.
Was Hughes in the audience that greeted Douglass, escorted him through town and heard him speak behind Bethel AME in September 1877 and/or was Hughes seated in the present-day Dorchester County courthouse in November 1878 where Douglass spoke to benefit a local cause?
During the 1882 – 1883 school year at Howard University in Washington City Hughes, according to existing records, was the only student in any department from the Eastern Shore's Dorchester County.
For that academic year Howard University enrolled two other students from Maryland's Eastern Shore with Saint Michaels in Talbot County and Chesapeake [City] in Cecil County properly accounted for.
I am still tracking how and/or how well Douglass knew Hughes. Based on quantifiable and qualified scholarship, Douglass was an active presence on the campus of Howard University, serving as an active member of Howard's Board of Trustees from 1871 until his passing in 1895.
According to existing records, accounts and oral tradition Dr. Douglass often knew the parents and sometimes even the grandparents of Howard students. Some of the students Douglass had known since their infancy.
This history has yet to be told due the proclivity of mainstream scholars to embrace and endorse diabolical scandal-mongering speculations and conjectures that have minimized and dishonored the people's history of Dr. Frederick (Bailey) Douglass.
It is the informed interpretation of Old Anacostia Douglassonians and Shore street historians that hereby, as it is formally known Dr. Douglass looked out for young people the entirety of his life and heretofore it is acknowledged Dr. Douglass was closer connected to the Eastern Shore following the Civil War than any previous historian other than Master Historian Dickson Preston has advanced, it is hereby our declaration it is highly probable Douglass would have known and/or met a young Enoch E. Hughes and his family during visits to Cambridge in the late 1870s and in subsequent years Dr. Douglass would have continued his relationship with a young Hughes in the early 1880s while Hughes was one of only three students from the Eastern Shore enrolled at Howard University.
It is our position their shared identity as Eastern Shoremen would would have been a discussion point for them, if nothing else.
The research continues …