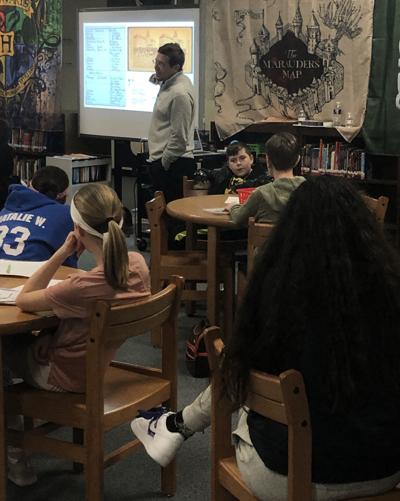 DENTON — "If you've been on Market Street in Denton, you've been following Douglass' footsteps, the same places he walked as a young man,"author of Frederick Douglass in D.C.: Lion of Anacostia and renowned historian John Muller told the students he visited last week at Lockerman Middle School. Muller has spent years of his life tracing and chronicling the the details of Douglass' life.
Bringing history to life for middle school students is not an easy task, but Muller engaged and pulled the students into Douglass' life drawing lines from the past to the present – tracing family lines —Anthonys, Baileys, Downes, Greens, Groces, Murrays, Rosses, and Waymans and several others who have been connected across centuries from the 1700s until today in Caroline County.
Muller knows not only the past, but how it is tied now to the present. Through his interactive presentation, students read excerpts from Douglass' autobiography. "It was very special to witness the young lady with the surname "Murray" read and share with her classmates the local history of Anna Murray Douglass," said Muller, "It was a powerful moment for me."
Douglass' wife Anna born in Denton to slaves Bambarra Murray and Mary, was born the first free child of the family. She would be instrumental in helping Douglass escape his slavery and find passage to freedom.
Muller led the students through Douglass' early years — "I was born in Tuckahoe, near Hillsborough, and about twelve miles from Easton, in Talbot county, Maryland," wrote Douglass, "My first experience of life, as I now remember it, and I remember it but hazily, began in the family of my grandmother and grandfather, Betsey and Isaac Bailey."
Douglass (born Frederick Bailey) in his autobiography, recalls his grandmother, "She was a good nurse, and a capital hand at making nets for catching shad and herring; and these nets were in great demand, not only in Tuckahoe, but at Denton and Hillsboro, neighboring villages."
Fishing — a recreational past time for many students — is another connection Muller drew upon, and it was moving to listen to Muller guiding these young students through the very places their ancestors were before them.
"I know next time I present to ask everyone what fish they catch in the Choptank when sharing Frederick Douglass' grandmother fished in the same waters," Muller quipped after his lecture.
Muller encouraged students to not only walk physically in the footsteps of Douglass, but also to follow his lead in other areas. Douglass, who left the shore to gain his freedom, traveled not only to New York and D.C. but also abroad. Challenging himself to learn more.
Not only was he a leader and innovator, but a supporter of his fellow man, noted Muller, speaking to churches, helping to establish schools, and working alongside abolitionists to better educate and provide opportunity for men of color.
He was well respected, but never let it go to his head; and was often written and asked for support, but never looked down on people who asked for his help, rather he treated them equally. His speaking engagements sold out – and Douglass made several appearances back on the shore after he left for D.C., Muller told the students.
"The announcement that Fred. Douglass, the noted colored man, would appear in the Republican meeting in Denton last Wednesday, drew a very large crowd of people. Three-fourths of the colored voters of the county were on hand, and they became much enthused by Fred's speech and a brass band. Three hundred white people, men, women, and children, were also out to see and hear the celebrated colored man." Denton Journal, November 3, 1883 (p. 3).
While it can be said Douglass used this "fame" to help people,"For those of you become famous, don't forget I told you this," said Muller, "follow the footsteps of Douglass and do good."
---